No Chelsea fan needs to be reminded of the shortcomings of the 2015/2016 campaign. It was complete and utter failure by any standard or measurement.
However, two different managers and a few incoming players, and now the Blues find themselves in 2nd place in this early Premier League title race.
From four matches the Blues have accrued 10 points. This can be compared to last season's four points over the same four matches.
So what has changed? The squad? Not a whole lot.
While no one can deny the early effect of N'Golo Kante in this Chelsea side, he remains the only large change to the Blues team, personnel wise.
For better or worse, this is almost the same team that failed so miserably last season. However, it's also largely comprised of Premier League winners from 2 years prior.
In 2014/2015, Jose Mourinho achieved a masterclass in West London. Whether you are in his camp or not, there is no denying the effect the Portuguese tactician had on the Chelsea squad.
He certainly got the best out of most of his players and the Blues delivered a title to West London in spectacular fashion. In fact, they lead the league for the entire season.
While there is no doubting Chelsea's dominance 2 seasons ago, there is also no denying their collapse during last campaign.
We may never know w
hat happened between Jose and his squad last year. The breakdown of the relationship between players and management was almost poetic. "A palpable discord" as described by Michael Emenalo, the Blues technical director.
Fast forward to this season and it's a different story entirely. Antonio Conte is in charge and his players are right in tune with his style.
Almost every other day, there is a Chelsea player speaking in the media about their new boss and how they enjoy working with him. It appears he's won over the dressing room quite quickly.
However, he's done much more than that. He has his players playing some of their best football. His early legacy with the club is revitalizing players that no longer seemed an option.
Diego Costa, Oscar, Nemanja Matic, Victor Moses are just a few examples of players who were all question marks for this upcoming season.
Costa seemingly had one foot back in the Vicente Calderon and both Oscar/Matic were perceived as basically Juventus players. Moses wasn't even on anyone's radar, except perhaps as a loan option.
However, if you look at Chelsea's first four matches, five if you count the Bristol Rovers match, all four of these players have had major roles to play.
Moses has always been a player that impresses in preseason and then finds a loan move where he helps another Premier League team in their campaign.
However, Conte has reintroduced him into this Chelsea side and the effects are being felt by everyone.
The Nigerian winger represents an option of pure power, speed and work ethic. He appears to have surpassed Pedro as Chelsea's 3rd wing option, behind Hazard and Willian.
Moses has come into matches and immediately impacted play. Whether he's created chances, or simply gave Chelsea a different look going forward, he's had a massive impact in the Blues season thus far.
Nemanja Matic is another player who has benefitted from the new Italian manager.
While the Serbian suffered a pretty large fall from grace, he appears to be climbing back into the picture at Stamford Bridge.
Playing higher up the pitch, in front of Kante in a box to box role, we are seeing the 28-year-old excel again in West London.
The finer points of his game have improved, including his passing and vision. Furthermore, sharing the workload with Kante and Oscar have meant less pressure on the Serbian to shield Chelsea's defense.
It's allowed him freedom to move more naturally and make tackles higher up the pitch.
Oscar is another player who is showing his true colors under Conte. As Bleacher Report's Garry Hayes has mentioned in his article, this is no false dawn either.
The Brazilian is playing in a more natural role that's suited for his style of play. Too often we've seen the 24-year-old fail at Stamford Bridge due to the misplaced expectations he's had to shoulder.
Playing in a centre attacking midfield role, there's every expectation to produce goals and assists. Statistics are the determinant of skill.
However, Oscar is not this player. He's a box-to-box midfielder by every definition of the position. He's got power, a work ethic, and an understanding of how to dictate play from further back.
He arrives late to the attack, boasts a strong shot from range, and can pick out passes just as well as anyone. Playing him in the midfield triangle, Conte has begun to pull the best out of Oscar.
So much so, that Cesc Fabregas has been relegated to a super sub.
And finally, Diego Costa is showing himself to be the league's top striker. And that's not biased as a Chelsea supporter.
While Aguero and Zlatan (in my opinion, the league's next best strikers), boast undoubtable talent, they don't represent everything that the Spaniard offers.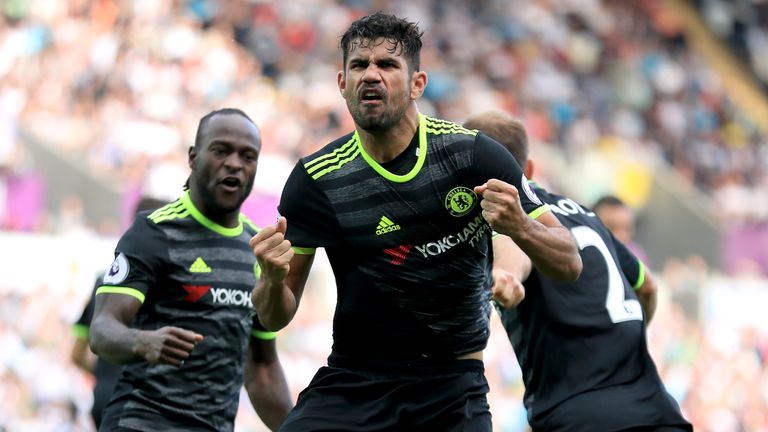 Aguero and Zlatan show up in big moments and score goals. That's what a striker does and not many players do it better than those two (Though Zlatan was awful in the Manchester derby and Aguero was banned, rendering their big game presence questionable as of late).
However, Costa doesn't need to show up in big moments because his presence is felt for the full 90 minutes. The 27-year-old plays on the edge of the game, always finding ways to have an impact.
Opposition fans won't like his tactics, and the FA surely doesn't. But they don't have to. Costa bullies defenders for the full match. He runs channels, holds up play and even runs at the other team with the ball, creating his own chances. And Chelsea are the true benefactors of his game.
He makes it impossible for defenders to forget about his presence at any point. The aggression he employs very much embodies the Premier League.
Conte has brought the very best out of the Spaniard. He has Costa playing on the edge, but staying out of trouble.
Against Swansea, there was no room to talk about his behavior (as much as pundits want to). They were forced to talk about his goals, his movement, and his masterclass performance.
Costa pulled Chelsea along the finish line in Wales. Had it not been for some questionable refereeing, we'd be praising the striker for delivering all three points.
Needless to say, Costa is playing his finest football early on this season. And Chelsea are all the better for it.
Conte is responsible for pulling the best out of Cost and the rest of his players.
Moses, Oscar, Matic and Costa seemed to be shopping for a new club prior to this summer.
Now they have become focal points for an early Blues title push. And they have their new Italian caretaker to thank.
Facebook Comments